sensorProbe2+ LCD
Sensor Monitoring with LCD Display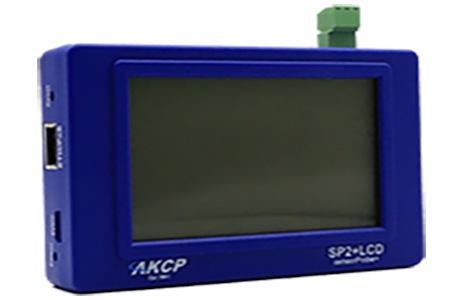 4 sensor ports and 1 dry contact with LCD Display
The sensorProbe2+ LCD (SP2+LCD) is based on our popular SP2+ device. Equipped with 4 sensor ports, a dry contact I/O it is ideal for server rooms and monitring of individual racks. Connect any AKCP intelligent sensor such as thermal maps, sensor status light, contactless current meters and water leak detection. Mounted on the front, or with a 45° bracket on the top of your rack, the LCD vides a visual display of all sensor status and values.
The SP2+LCD comes PoE built in as standard, the additional 5VDC USB power input can be used as the primary source of power with PoE as backup power.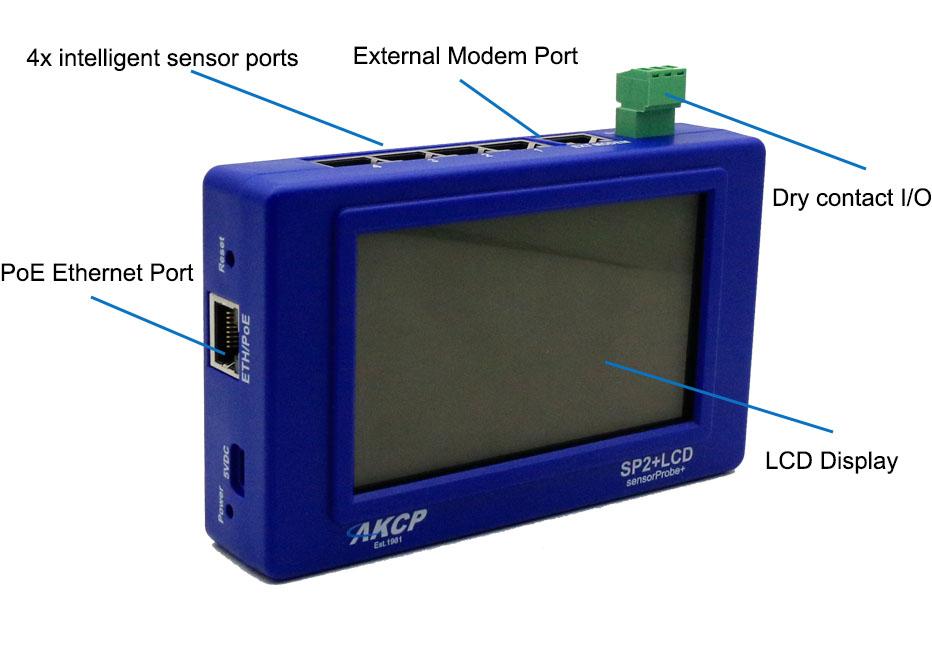 Dimension
Size 135 x 81 x 36 mm
Weight 0.4 Kg
Network Interface
Standard 10/100 Mbps Full Duplex
Ethernet RJ-45 Port
Mounting
0U rack-mountable
Built in DIN Rail Clip and cable tie loops
Screw hole mounting
Power Requirements
PoE IEEE 802.3af support
External 5.5V 3A Power Adapter

Input Voltage and Current ratings : 100V~240V – 0.22A

Status Indication
LCD display for sensor values, status and IP address
LED indication for Power
LED for network connectivity
LED for sensor online and threshold status
RJ-45
4 RJ-45 Sensor Ports for connecting AKCP Autosense Sensors
Up to 20 Dry Contact Input (5VDC) using 5DCS input for each sensor port
1x Dry Contact I/O + 4 optional, 1 I/O per sensor port
Componenets
Manufactured using highly integrated, low power surface mount technology to ensure long term reliability.
Operating Environment
Temperature : Min. -35° C – Max. 80° C
Humidity: Min. 20% – Max. 80% (Non-Condensing)
MTBF
1,400,000 Hours based on field experience with sensorProbe units.
Inputs
4x RJ-45 Sensor Ports
1x 10/100 Ethernet Port
1x UART external modem port
Outputs
Configurable output signals (0VDC/5VDC) on any of the 4 RJ-45 sensor ports
Max Sensors
Maximum of 400 onlined sensors, including virtual sensors.
Maximum Number of Access Control Users
500 Users
100 Users default
Supported Protocols
Rsyslog
MQTT / MQTTS
SNMP V1/2
IPV6
RADIUS
TACACS
HTTPS
Encrypted E-mail
Pro License Features
5 Dry Contact : DC5
5 dry contact input sensor (per port) 1 License equals 1 RJ45 port unlocked
Virtual Private Network (VPN)
VPN – Connect to AKCPro Server from your base unit through VPN over Ethernet or cellular network.
Virtual Sensor pack
Virtual sensor (pack of 5 sensors). Maximum of 80 virtual sensors. * **
Every SP2+ comes with 5 free virtual sensors
3rd Party PMS & Modbus
3rd Party Modbus / PMS device
Up to 4 modbus devices with 15 sensors * **
500 Access Control user database : UA
500 users for access control (SP+ series has 100 users as standard)
IPV6
Support for IPV6 network addresses
Radius
Radius user authentication server connection. TACACS authentication to Radius
Important Notes
* the sensorProbe+ units can only have 60 Modbus RS485 sensors (virtual sensor + modbus devices)
** the sensorProbe+ units can only have 60 Modbus TCP/IP sensors (virtual sensor + modbus devices)
AKCP smartRack System
Build a complete rack monitoring system connecting AKCP sensors to your SP1+. Fully SNMP compliant, monitor from your existing NMS or using our DCIM AKCPro Server..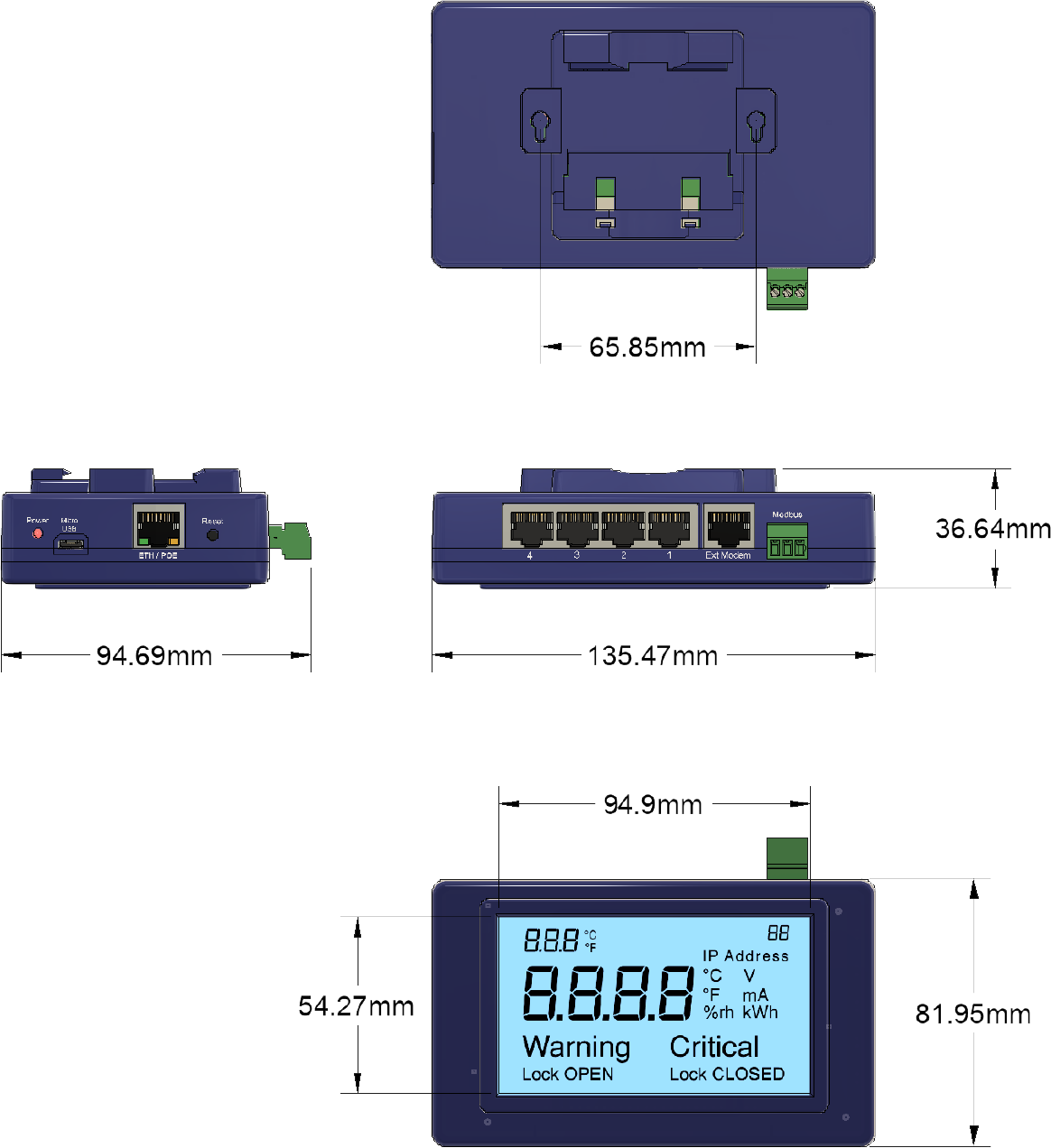 ---
Request a Quotation
Request a quotation from one of our experienced sales staff today.